Promotion
June Holiday SP EV Charging Promotion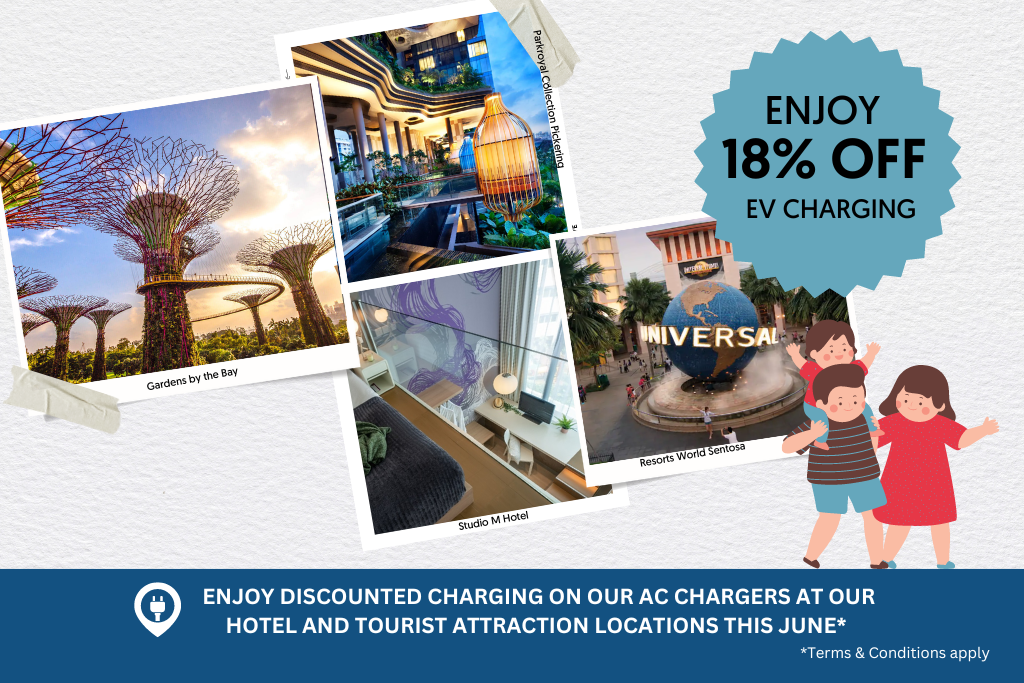 From 1 to 30 June 2023, head down to the following selected SP EV charging points to enjoy 18% off whilst you bring your family to these locations to have fun during the June holidays!
Only applicable for AC chargers at these locations in the list below.
If you have not already done so, just download the SP App to enjoy this discount. Simply drive up to the relevant EV charging point, plug in and scan the QR code to begin charging. Upon completion, a notification will be pushed to you along with the receipt of auto-payment.
| No. | Location |
| --- | --- |
| 1 | Gardens by the Bay (Bayfront Plaza) |
| 2 | Gardens by the Bay (Main Entrance) |
| 3 | Resorts World Sentosa B2 |
| 4 | Resorts World Sentosa B2 VIP |
| 5 | Resorts World Sentosa East B1 |
| 6 | Resorts World Sentosa West B1 |
| 7 | Sentosa Cove |
| 8 | Singapore Zoo |
| 9 | Corpthorne King's Hotel |
| 10 | Grand Park City Hotel |
| 11 | M Hotel |
| 12 | Orchard Hotel |
| 13 | Pan Pacific Serviced Suites Beach Road |
| 14 | Pan Pacific Serviced Suites Orchard Road |
| 15 | Parkroyal Collection Pickering |
| 16 | Parkroyal on Kitchener Road |
| 17 | Sheraton Towers |
| 18 | Studio M Hotel |
| 19 | Waterfront Plaza |
Promotion Terms and Conditions:
This June discounted charging promotion ("SPM June Campaign") is valid from 1 June 2023 (0001hrs) to 30 June 2023 (2359hrs) only
Valid only for AC charging points
Discount is not applicable for DC charging points
Your EV must be charged using the SP App to enjoy this SPM June Campaign
The discount will be automatically applied during the SPM June Campaign promotional period at the selected AC charging points
To enjoy the discount, please ensure that the charging price reflects the discounted price prior to starting your charge. SP will not refund any EV payments transacted after charging has commenced
This SPM June Campaign promotion does not cover any other miscellaneous fees such as carpark fees, ERP etc, which shall continue to be borne by the user
To avoid disappointment of SP EV charging point non-availability or prolonged wait-time for EV charging, please check the SP App for real-time availability updates
By participating in this SPM June Campaign and in addition to any other consent you may have already provided to SP Mobility, for example via the use of the SP APP, and any right of SP Mobility under applicable laws, you consent to SP Mobility (and its affiliates and agents) collecting, using and disclosing your information for the purposes of this SPM June Campaign. Personal Information and data submitted to SP Mobility shall be treated in accordance with SP Group's Personal Data Protection Policy. In using the SP APP, you acknowledge and agree to be bound by SP Group's Personal Data Protection Policy
SP Mobility shall not be responsible for any fees, costs, losses, damages, claims, expenses and/or injuries of any person howsoever incurred or suffered, whether directly or indirectly or consequentially, in relation with the SPM June Campaign or otherwise
You agree that SPM, its affiliates, agents and respective officers and employees shall not be liable for any actions, claims, demands, injuries, proceedings, liability, losses, damages, costs and expenses of any nature sustained by the you directly or indirectly by reason of or in connection with this SPM June Campaign. You will indemnify and keep fully indemnified SPM and its affiliates and its and its affiliates' officers, servants, agents and employees (the "Indemnified Parties") against any and all losses, damages, liabilities, claims, expenses and costs (including legal costs on a full indemnity basis) suffered and/or incurred by any of the Indemnified Parties as a result of the breach of any of the Terms and Conditions herein by you.
SP Mobility reserves the right, at its sole and absolute discretion, to suspend or cancel the SPM June Campaign or any of the Terms and Conditions herein, at any time without prior notice or any liability to you
SP Mobility reserves all rights to (i) update these Terms and Conditions without prior notification and your participation in this SPM June Campaign at any time shall be bound by any such update; and (ii) make determinations and decisions on all matters relating to the SPM June Campaign which shall be final, conclusive and binding. No appeal against any of SP Mobility's decisions will be entertained by SP Mobility
These Terms and Conditions shall be governed by the laws of the Republic of Singapore, and you agree to submit to the exclusive jurisdiction of the Singapore courts. A person not a party to these Terms and Conditions has no rights under the Contracts (Rights of Third Parties) Act 2001 of Singapore to enforce these Terms and Conditions